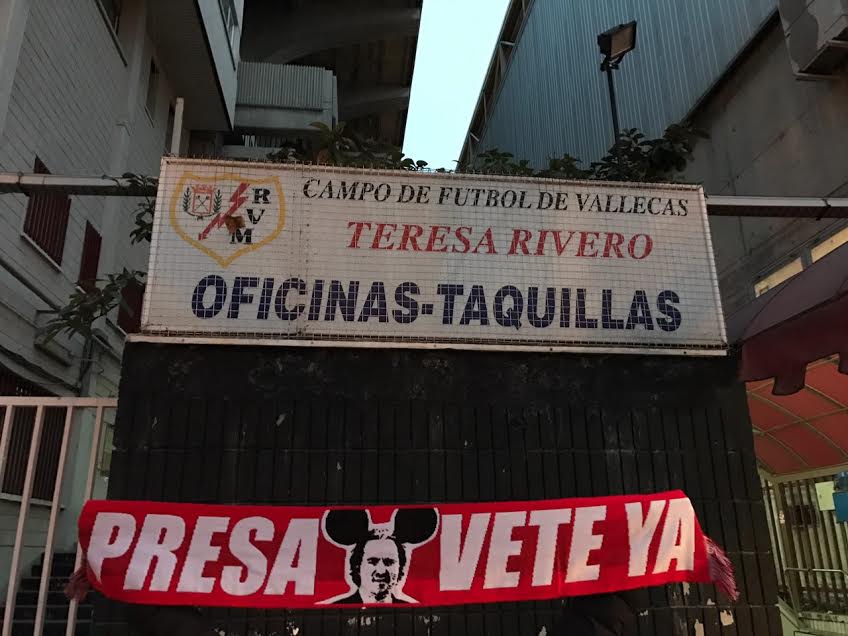 José María Ruiz-Mateos was the head and main shareholder of Nueva Rumasa - the company that owned Rayo and other companies - mainly specializing in dairy products. (He wasn't the president of Rayo though - his wife, Teresa Rivero, was Rayo's president).
In early 2011, the directors announced a debt of over 700 million euros, that it was on the verge of bankruptcy and that staff wouldn't be paid. And the players were visibly angry about it - captain Míchel assured the press that the club would continue fighting on the pitch, but the day after the announcement was made, six key players didn't attend training. Veteran midfielder José María Movilla spoke on radio station SER about the situation, about the fact that he had only received seven of the last eighteen months of pay, about the fact that there were a few players who couldn't even afford car repairs.
When Rayo Vallecano were about to earn promotion to La Liga despite all the odds - the players not being paid, the club in debt, and the ownership being at odds with the players and fans - the club was in the unlikely situation of actually disappearing. The 40 million euros of debt that the club had accrued was no small matter - somebody had to agree to pay it long-term.
And in May 2011, 98.6% of Rayo went from one greedy entrepreneur to another.
At the time, Presa taking it up meant a lot. It meant that if Rayo went up to La Liga - with six games to go, they would be given a temporary lifeline. In the end they did, and fans had a club president who had been a Rayo
abonado
for 10 years, who had made his name in advertising and who was on the board of directors for nine different companies - Margi, Magnaprint, Martiplas, Senigrama, Digital SM, Adhegraf, Margicart and Cromosur.
There was more to it as well - Rivero and Mateos are from Xerez in Andalucía, and have no historical ties to Madrid, least of all to Vallecas - whose citizens' humble, working class identity is at odds with the couple's immense wealth. In contrast, Presa, 36, was based in Madrid. More importantly, they are both members of the infamous Catholic institution Opus Dei and whilst not being very political, are more aligned to the right wing, while Rayo's fans have always fiercely identified themselves as being left-wing.
But it was going to be business as usual. Everyone knew that.
Presa won ownership of the club simply because he stated that he would pay 95,000 euros a week to the players. But what actually happened was that 30,000 of that was diverted into club expenses, and reportedly some player received as little as 700 euros. And that was just week one. In week two and three nobody was paid.

Business as usual! Who expected this businessman to be different? Very, actually.

They had no idea. Absolutely none...

Coming up in part 2...

And then there were reports that Presa was trying to offload the club before the season even began...